It's that time of year when we look back at the previous 12 months to find the young entrepreneurs and startups which have made great progress. 2012 has been a fantastic year for the UK, from the Diamond Jubilee to the Olympics, with many shining stars coming to the forefront. This was evident in Sports Personality of the Year awards which was one of the toughest to call for many a year. So here are our top 10 young entrepreneurs from the UK who we think had an awesome year. (In no particular order)
Calum Bush - MediaDevil
Calum started the mobile accessories company in 2009, and rapidly grew the company with more than 300,000 customers and the fourth most 5-star products on Amazon last year. 2012 has seen him  named as a 'Young Gun' 2012 by Growing Business, winning at UKTI's Startup Games, being shortlisted for Young Entrepreneur of the Year at the Growing Business Awards & heading to No. 10 Downing Street to discuss the business. He has also seen the company expand into Italy & start their foray into the US market.
Oliver Morgan - Universal Fuels
Oliver is the 20 year old founder of Universal Fuels, which he started in 2009.  The company supplies petrol, diesel, gas and kerosene to businesses and homes direct from refineries. It's no the first business you would imagine a teenager would get off the ground but his desire to build a global company led him to the 'Black Gold'. The company is on track to hit £600,000 this year. Oliver has already raised £200,000 in funding this year, with £100,000 coming from crowdsourcing equity funding through 'Crowdcube', one of our Top 10 Startups of 2012.The other £100,000 being raised from bank financing, which is an achievement in itself!
Suleman Sacranie - 99pShopper & 99pWholesaler
Suleman brought a well established industry of 99p shops and cash and carries into the modern day by bringing it online. Named by us in our 'young entrepreneurs to watch 2011' list, Suleman has really progressed from 99pShopper.com by opening 99pWholesaler.com, catering for both consumers and businesses now. He has negotiated a £150million distribution deal, been named as Midlands Young Entrepreneur of the Year & been nominated for GBA's Young Entrepreneur of the Year award.
Nick D'Aloisio - Summly
At the beginning of this year, we said Nick D'Aloisio would be one of the young entrepreneurs to watch in 2012, and he has done us proud. After a good end to 2011, Nick has blown 2012 away. The 17 year old re released the Summly app in November and seen it go on to be downloaded over 500,000 times, be named by Apple as one of the apps of the year, he's been named as a 'top 1000 influential Londoner , Forbes 30 under 30 and raised $1,000,000 in funding from celebrity investors such as Stephen Fry, Yoko Ono & Ashton Kutcher!
Hayley Gait-Golding - BEAR
Hayley founded BEAR, the healthy snack company, in 2009. After a great first year, generating revenue of £2.2million Hayley's vision has created a brand that echo's what the highly successful Innocent Drinks have done. 2012 saw the company double in growth and officially become the UK's fastest growing health snack brand. This was helped by their first advertising campaign which they completed this year. The huge brand awareness campaign for BEAR Nibbles was estimated to have been seen by 37% of the population with each person being touched by the brands advertising around 5 times. She also ended the year with a NatWest Everywoman Award, doing her bit to raise the profile of female young entrepreneurs.
Rob Symington & Dominic Jackman - Escape the City
These two young entrepreneurs escaped the city & looked to help others do the same by starting Escape the City, a community which looks to help people move from the city into startups or more entrepreneurial pursuits, in 2009. The two young entrepreneurs bravely decided to turn down a £500k funding offer by a VC firm and instead looked to raise funding through crowdsourcing. They ended up raising £600k in just 14 days.  This investment has helped them rapidly grow their member base, which stands at 95,000, almost doubling in size during 2012. They reached the 50,000 members mark around this time last year.
James Connelly and Declan Reddington - Fetch Media
Young entrepreneurs, James & Declan, have overseen a great year at Fetch Media, with turnover quadrupling to £20million in 2012. The company boasts clients such as Expedia, Hotels.com, William Hill and Sony Music. They have also set up an office in the Valley and rapidly grown US business this year. James has been named MediaWeek's 30 Under 30 and Growing Business' Young Guns 30 Under 30 Entrepreneurs while the company won the  Marketing Society's Awards for Excellence 2012 in the mobile marketing category.
Jules Quinn - TeaShed
Jules started TeaShed in May 2011, just as she was finishing her university degree. The company is a design led British tea & teaware company that offers 20 teabags in a paper cup, as opposed to a box, which you can then use. This past 12 months has seen the 24 year old from Gateshead sign multiple deals with Stockists across Europe and Asia as well as signing a huge deal with John Lewis stores across the UK. 2012 also saw her named as a Shell LiveWIRE Grand Ideas finalist.
Jon Reynolds and Dr Ben Medlock - SwiftKey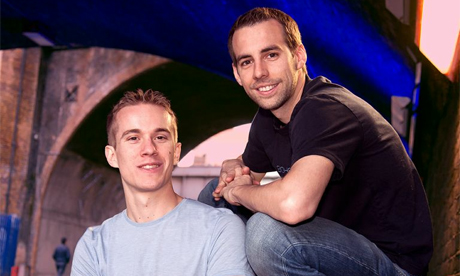 Jon (CEO) &  Ben (CTO) have seen SwiftKey take it to another level this year. They have won multiple awards and become the best of British in the app world, seeing themselves become the top selling android app of 2012. The young entrepreneurs have seen the company win the Recombu - best app 2012 award, the  Guardian Digital Innovation Award - best startup business 2012, the Webby Award for experimental & innovation in mobile 2012 & the most innovative app at the Global Mobile Awards 2012. They have also grown to 60 employees and they launched the SwiftKey SDK which will allow developers to access the technology for their own UI.
Alistair Crane - Grapple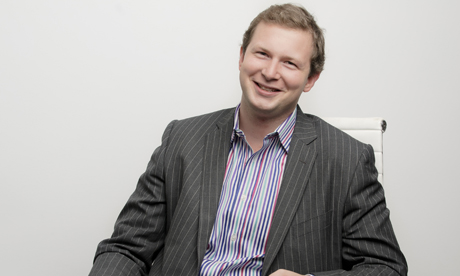 Alistair has seen his company grow massively since he started it 3 years ago with Jamie True. All while being bootstrapped. He turned down $10million in VC funding in the early days, whilst in the midst of the recession I might add. 2012 shows that he was probably right to make that decision. The company has grown to 85 people across 3 offices in London, New York and Toronto. The young entrepreneur has also seen Grapple named as the most Innovative Mobile Agency of 2012 and himself named as a Media Week '30 under 30' winner. Alistair has also made his first acquisition with Grapple this year. They acquired Toura, a cloud-based content distribution platform for smartphone and tablet applications.
Now obviously there were many more young entrepreneurs who had a great year but I couldn't add them all here so feel free to add your choices in the comments!
If you liked this post tell me on Twitter: @Rishi_Chowdhury